STEP 2 - Certification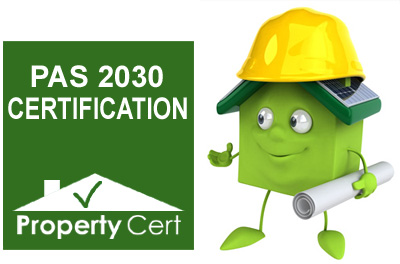 The next stage is to become certified by a UKAS accredited Green Deal certification body, which will assess whether you meet the PAS 2030 standard for the measures you wish to install.
The certification process is split into two main parts, namely;
PART 1 - Assessment of the Quality Management System (Office-Based).
This establishes whether you are operating processes that support the installation of energy efficiency measures via a robust management system as outlined by the individual requirements of PAS 2030. This activity will normally be office based and will verify all the individual elements as detailed in Step 1.
PART 2  - Assessments of installed energy efficiency measures (On-Site).
This establishes whether you can demonstrate that the installed energy efficiency measures conforms to the specification provided and in compliance with the required building regulations. You will need to show at least one example of an installation for each energy efficiency measure that you wish to be certified to install.
The current 26 measures that will be encompassed by the Green Deal:
Domestic and non-domestic condensing boilers: natural gas-fired and liquefied petroleum gas-fired
Domestic and non-domestic condensing boilers: oil-fired
Heating controls
Under-floor heating
Flue-gas recovery devices
Domestic and non-domestic gas-fired warm-air heating systems
Domestic and non-domestic electric storage heaters
Cavity wall insulation
Loft insulation
Pitched roof insulation
Flat roof insulation
Internal wall insulation
External wall insulation
Hybrid wall insulation
Draught proofing
Floor insulation
Heating system insulation: pipes and cylinders
Energy efficient glazing and doors
Lighting fittings
Non-domestic lighting controls
Ground and air source heat pumps
Solar thermal
Solar PV
Biomass boilers
Micro-combined heat and power (CHP)
Micro- and small-scale wind turbine systems
The Department of Energy and Climate Change (DECC) has made some exemptions to make it easier and faster for certain installers to gain certification by removing the requirement for a certification body to check a sample of their work as part of the 'sign-off' process.

The exemptions are for organisations already registered on the Gas Safe Register (although they will still need to demonstrate a suitable QMS) and the Microgeneration Certification Scheme.

If the assessment is found to be successful you will be subject to on-going surveillance visits, which are usually annual.

This process has been put in place to give the consumer confidence that all installers working on energy efficiency improvements funded through the Green Deal meet minimum standards, and that they are taking part in a properly regulated scheme that will provide them with real benefits.
Get Started ... Contact Us Today:

Tel:
0844 804 0845

Email: