What is included in the Green Deal?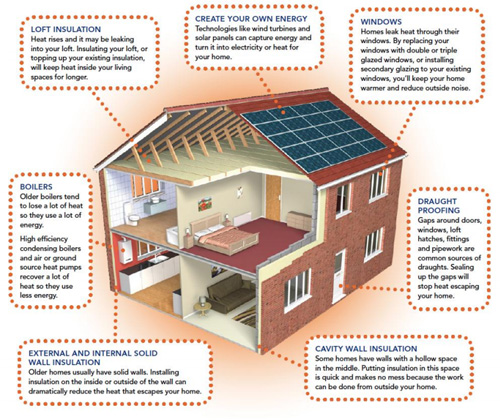 The following are the current home improvement measures that you can get under a Green Deal plan.

Heating and heating controls
Condensing boilers (gas or oil fired)
Flue gas recovery devices
Heating controls
Radiant heating
Storage heaters
Underfloor heating
Warm-air units
Insulation
Cavity wall insulation
Draught proofing
Floor insulation
Heating system insulation (pipes and cylinders)
Loft insulation
Pitched roof or flat roof insulation
Microgeneration
Biomass boilers
Ground, water and air source heat pumps
Micro-CHP
Micro-wind
Solar PV
Solar thermal
Others
Energy efficient glazing and doors (eg double glazing)
Heating ventilation and air conditioning controls
Hot water controls
Lighting fittings
Solar blinds, shutters and shading devices
Transpired solar collectors
Waste water heat recovery devices attached to showers
The goverment plans to increase the number of measures included in the Green Deal as the scheme matures.
Next: Green Deal jargon explained